What is data disclosure?
Data disclosure means providing information about a range of bank activities in defined geographical areas, about the ways that banks invest the money the public deposits with them.
Disclosure can also provide an opportunity to deepen understanding of market trends and to refine products and services to better serve local markets. It can be used to compare the performance of different banks in a transparent and verifiable way.
The potential for data disclosure to help communities, businesses and social enterprises access finance is demonstrated in the three minute film, which you can view here:
Download briefing on bank lending data disclosure:

Data Disclosure Briefing (April 2017)
June 2017
An overview of lending data released by the British Bankers' Association, the Council of Mortgage Lenders and high street lenders, with links to data releases.
Download – 680 KB
Download a step-by-step slideshow guide to using personal lending data at a neighbourhood level, by Birmingham City Council's Richard Browne
Read reports on the potential for using disclosed data, with examples:
'The Distribution of Consumer Credit Debt in Leicester'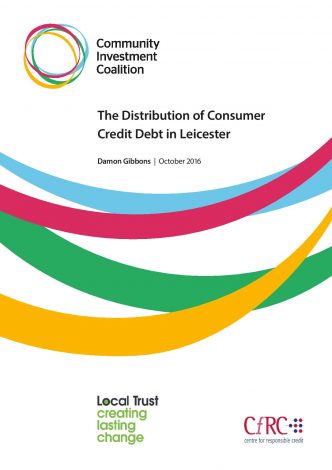 In October 2016, CIC published the findings of an investigation into consumer credit debt in Leicester. The report applied bank lending data to existing demographic data in Leicester and demonstrated both the potential for bank lending data to produce greater insight into over-indebtedness and the need for fuller, more readily-applicable data sets to be released. Read the report here.
'Tackling Financial Exclusion through Community Investment'
A March 2015 report from the Harvard Kennedy School states that granular area-based data disclosure by all financial services institutions is vital to understanding the nature of the financial exclusion problem, and thus develop appropriate solutions and to evaluate their effectiveness. You can read the full report here.
'Tackling Financial Exclusion: Data Disclosure and Area-Based Lending Data'
In Autumn 2014, CIC, together with Citi Community Development, Unity Trust Bank and Big Society Capital, commissioned Coventry and Newcastle Universities to undertake research looking at this lending data.  The report – 'Tackling Financial Exclusion: Data Disclosure and Area-Based Lending Data' finds that currently, the lending data is limited and publication at postcode sector level increases the technical requirements and costs of meaningful data analysis. Read the Executive-Summary or the Full Report.
'Personal Loan Data in Birmingham'
Click here to read the 2014 report written by Birmingham City Council, which details the level of borrowing in Birmingham based on data disclosed by the British Bankers' Association (BBA) and the Council for Mortgage Lenders (CML). You can also view the presentation 'Personal Bank Lending Data at a local level' from Richard Browne, Birmingham City Council Partnership Manager.