Working together to do more
22.08.2017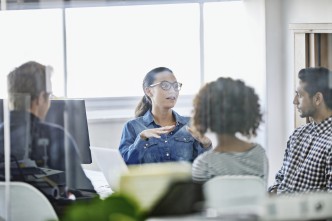 Local organisations across the UK are working together to find new and more effective ways to create and market complementary financial products, coordinate and simplify customer journeys and reduce overheads. They are working together to deliver more to more people with the available resources.
Our research, Tackling Financial Exclusion Through Local Finance Partnerships, found that a holistic and joined-up approach by local finance organisations can provide scalable alternative financial service offerings for UK residents and businesses.
As a result, customers have more choice and are less likely to borrow from high-cost credit providers. This is particularly important in the current economic climate. With stagnant wage growth and the public turning more and more to unsecured debt to remain afloat amid rising prices, it is critical that credit is made available from responsible finance providers, that customers have avenues to debt and money advice, and are encouraged to save.
Responsible finance providers are already experienced collaborators, working with multiple stakeholders on a range of projects. More formal partnerships can bring additional benefits.
The organisations that have invested time, money and focus into partnerships could gain access to additional customer markets through partner organisations, expand their own customer base and keep those customers in-house. They are also able to consolidate operating costs through shared marketing campaigns, staff, office space and back office systems.
So how do they do it?
A local finance partnership is not an easy thing to set up. A common theme from our discussions with partnerships was that all involved must be committed to the spirit of the partnership, with a shared concept of the desired outcome for the customer.
Creating organisational buy-in, aligning product offers and ensuring each organisation has a clear understanding of the benefit that came with being in the partnership are all crucial components.
With that in mind, there are certain steps a successful partnership will take to test its suitability, its viability and the proper form it should take, before taking the leap. To support the research and encapsulate the practicalities of setting up a partnership, we created a toolkit that you can use if you are thinking about launching a partnership, to guide you through the process. It details the following steps:
Identify unmet demand or a gap in the market
Map local stakeholders
Decide an organisational structure
Assign project management
Consider internal and external funding
Go to market
The intricacies of each step are fleshed out in the toolkit, but what it boils down to is a guide to answering the question 'How can partnership working benefit local communities and help participants to deliver against their respective missions' – along with a short guide to setting one up. So, if you think a partnership might be right for your organisation, or you are just interested in local finance partnerships, have a look at the toolkit and our more in-depth research at the links below.

Creating Local Finance Partnerships
August 2017
This toolkit sets out the steps involved and the factors to consider when setting up a local finance partnership.

Download – 354 KB

Tackling Financial Exclusion Through Local Finance Partnerships
May 2017
This report examines what makes a successful local finance partnership, and how these can be replicated to tackle financial exclusion across the UK. The report draws on experience from the UK and USA.

Download – 2 MB