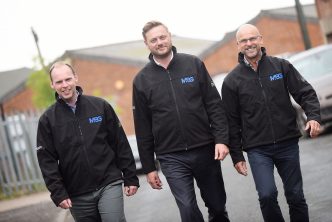 Phil Marsh always wanted to run his own business. With a background in corporate sales he describes himself as 'forever looking out for the next opportunity'.  He established M&BG in 2011 by merging two companies, and then set about growing it by further acquisition.
"Originally we offered grounds maintenance, cleaning and window cleaning," he says. "Now we also carry out general maintenance, gritting and gutter cleaning – in part thanks to ART Business Loans."
Phil already had a bank loan for the purchase of one company when the opportunity to buy another came up. That company specialised in gutter maintenance.  "Once you have a bank loan, funding becomes difficult," he says.  "Our accountant suggested we tried ART Business Loans and Martin came out to see us.  He looked at the figures and business plan and could see how the loan would work.  Although we have a great credit score, without security we still couldn't borrow more from a bank.  With ART we were dealing with a real person, who made a personal decision."
The company acquired contributed to M&BG's growth from £1m turnover in 2011 to £3m in 2016. Profitability increased by 300%.  Eight jobs were safeguarded and 9 more created.
"We now offer a one-stop-shop for local authorities, housing associations, facilities management companies, managers of retail parks, hospitals, etc," says Phil.
Phil believes that M&BG's mentality is crucial to making the merger and acquisitions work – and his approach certainly seems to be successful. He understands the value of marketing and has always kept his focus on running the business rather than being 'on the tools'.  He is aiming for £10m turnover in the next 7-8 years – a target he feels is realistic, based on a sustainable pattern of annual growth.