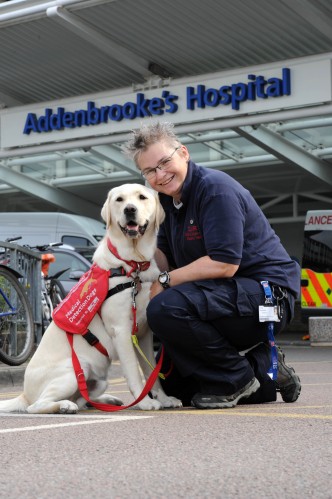 Medical Detection Dogs aims to train specialist dogs to detect the odour of human disease. Based in Great Horwood, the charity works in partnership with researchers, NHS Trusts and Universities. The charity arose from a passionate belief in the ability of a dog's sense of smell to benefit medical research.
The charity trains medical alert assistance dogs to support individuals who manage complex medical conditions by identifying the odour changes associated with certain medical events such as severe hypoglycaemia in brittle Type 1 Diabetes. These conditions can be life-threatening. The charity also trains bio-detection dogs to detect cancer from urine samples and is also researching the detection of breast cancer through breath.
Dr Claire Guest, CEO, is living proof of the belief that dogs can sniff out cancer, which has now been scientifically proven. Her Labrador's unusual behaviour prompted her to get a full check-up which detected breast cancer.
The charity is expanding rapidly and had reached capacity at its existing home. In 2012 the adjacent building was put up for sale and was ideally located to allow it to increase both its office space and its bio-detection unit. However, if it used the £179,000 it needed to buy the building and fit it out, it would have had less money to spend on its charitable objectives of training more dogs and doing more research. By taking a loan from responsible finance provider, Charity Bank, rather than using its own reserves, Medical Detection Dogs was better placed to achieve its charitable objective.
Since 2008 the organisation has trained and placed 62 Medical Alert Assistance Dogs with individuals, and now employs 26 staff. From 2010 to 2014 the organisation's annual income increased from £138,000 to £1.5m. Medical Detection Dogs has now repaid its Charity Bank loan.