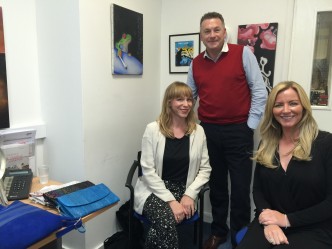 Leading entrepreneur and businesswomen Michelle Mone OBE continued the Government review into supporting entrepreneurship in disadvantaged communities today with a visit to Responsible Finance member London Small Business Centre.
Michelle had the opportunity to meet the finance provider's staff, some of the businesses they've helped as well as members of the Responsible Finance team.
The capital city is the latest stop as Michelle travels the country visiting areas with higher levels of deprivation, unemployment and poorer education levels, to identify the barriers people in these areas face in setting up their own business.
Michelle Mone said:
"Despite London's reputation as a financial centre, it's all too easy to overlook the challenges that small businesses face when it comes to getting a start-up off the ground here.
"I'll be meeting entrepreneurs across London to learn about the barriers people face in setting up their own business.
"As I travel across the country, I want to talk to as many people as possible to explore what changes are needed so people from all backgrounds and of all ages can be successful entrepreneurs.
"I truly believe that it doesn't matter where you are from, what your background is or what you have done in the past. If you work hard and put the hours, in you can be a success."
Michelle met local entrepreneurs at the London Small Business Centre (LSBC) in Brick Lane, East London, who have set up a new business with the centre's help. They provide hands-on support through a team of experienced advisers, access to finance, and business workshops.
She heard about the barriers they are facing and listened to their ideas to make it easier for businesses to set up and thrive.
At the centre, Michelle also learned more about the Community Development Finance Association, and the work of our members  providing affordable finance to entrepreneurs – and she went on to visit a local coffee shop, Pretty Cuppa, which was launched with help from the LSBC.
LSBC chief executive Laurie Wiseman said:
"We have been doing incredible work for 34 years – supporting new enterprises and transforming people's lives.
"We believe our work is crucial in generating opportunity, reaching regions and communities that need our unique one-to-one support, our training and the funding for entrepreneurs.
"Michelle Mone's visit will give her insight into what we do through hearing our clients' inspirational stories."
Responsible Finance chief executive Ben Hughes said:
"Organisations like London Small Business Centre are providing finance in disadvantaged communities – finance that is just not available elsewhere, and that is building great businesses and strong local economies.
"We look forward to working closely with the review to grow the responsible finance sector as a key contributor to Britain's vibrant SME market."
Michelle was raised in a deprived part of Glasgow's East End and, after leaving school at 15, she founded the Ultimo business in her twenties. She subsequently won the World Young Business Achiever Award in the US, as she took the lingerie brand global before the multi-million pound sale of 80% of the business last year. A serial designer and inventor, she has patented 16 different inventions, and now runs several businesses including UTan, as well as being in demand as a global speaker. Michelle was recently voted one of the top 7 Inspiring Female Entrepreneurs in The World alongside Oprah Winfrey.
Michelle has been asked to draw on her own experiences of setting up and running her own successful businesses for a review that will make recommendations to Work and Pensions Secretary Iain Duncan Smith and Business Secretary Sajid Javid in 2016.
She will travel across the country visiting communities with higher levels of deprivation – including areas of entrenched worklessness and lower education levels – to identify the barriers people in these areas face in setting up their own businesses.
The review will have a particular focus on disadvantaged groups including benefit claimants, women, young and disabled people and ex-offenders.