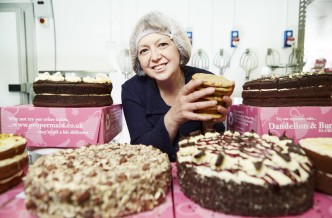 Allison Whitmarsh is the woman behind handmade bakers 'ProperMaid'. Since 2008 Allison has put her experience in food manufacturing to use and taken her business from strength to strength, receiving backing from Dragon Deborah Meaden in 2012, and more recently from her local responsible finance provider.
Delivering innovative cakes across the country to clients such as Manchester Airport and Pret a Manger, ProperMaid needed to expand their facilities for the growing demand.
Alison turned to her local responsible finance provider, the Business Enterprise Fund, which gave a loan for improvements to manufacturing and storage facilities, enabling ProperMaid to expand its production.
Now Allison can take on the new opportunities her success has brought, and has plans to expand her slice in the market, including projects with chocolatiers Thorntons. "We're looking to launch a cake at Christmas time working with some of their ingredients. It's very tasty I must admit!" Allison said.
The market was clearly hungry for high quality, unique cakes and treats. ProperMaid have picked up rewards for their efforts, including winning the SME category in the Huddersfield Examiner Business Awards as well as features in Ideal Home Magazine and the Guardian.
The Business Enterprise Fund provides loans from £500 to £150,000 to businesses that are unable to raise the finance they require from mainstream lenders. Lending up to 100% of the proposition across all sectors BEF has assisted over 2000 businesses since making its first loan in 2004.