By David Barclay
24.04.2015
A priest, a rabbi and an imam walked into a bank. It sounds like the start of a bad joke, but in fact it was the start of a very effective campaign. The year was 2009, and the Citizens UK alliance of civil society groups had identified the rising cost of credit as one of the key problems facing their members. Their response was to bring together faith leaders to present RBS with copies of the three major holy books, as part of the start of a campaign to cap interest rates.
After several years' hard work, eventually the pressure paid off, and last year the Government agreed to the historic move of capping the cost of credit. The Just Money campaign celebrated by marching to the Wonga Headquarters on the 1st day of the new regulations wearing baseball caps with a banner asking all payday lenders to 'respect the cap'.
But the campaign has always been aware that stopping exploitative lending is only half the battle. The nature of the economy means that access to short-term credit is a must for many families. That's why Just Money groups have been promoting community finance like credit unions and CDFIs.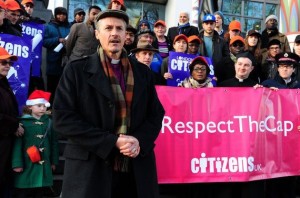 Whilst this grass-roots support is important, the lesson from abroad is that the community finance sector will never reach its potential without the national infrastructure to enable it to flourish. And so the Just Money campaign has been working with experts (including the CDFA) to develop a proposal for a Community Finance Foundation, endowed through £200 million of fines on banks and payday lenders over the next parliament. The Foundation would do three things – grant funding to help community finance organisations improve their infrastructure and tap into the resources of civil society, investment to increase their loan book and expand into new markets, and capacity building to make sure that best practice is shared and sustainability is built into business models.
The next step will be on May 4th, when Citizens UK will hold a unique General Election Accountability Assembly in Westminster Hall. There David Cameron, Nick Clegg and Ed Miliband will all be asked to commit to supporting the proposal and working with Citizens UK to make sure that the job that was started with the capping of the cost of payday credit is seen through to completion. It'll be well worth watching.
David Barclay is a Community Organiser with Citizens UK on the Just Money campaign.