By Neil Millington
27.04.2015
First Enterprise Business Agency has pumped more than £5 million into the East Midlands economy since 2009.
Celebrating 25 years of helping businesses and entrepreneurs this year, Nottingham-based First Enterprise is a not for profit organisation and member of the CDFA. It provides loans (through its Enterprise Loans East Midlands fund) and free business advice to start-ups and existing businesses from all backgrounds and sectors.
You may not have heard of First Enterprise but in its 25 year history it has worked across the East Midlands to support 372 businesses, provided business support to 758 businesses and helped to create 1,072 jobs. One of those businesses is nottinghamcar.com, whose founder recently won Microentrepreneur of the Year at the recent Citi Microentrepreneurship Awards, run in partnership with the CDFA.
Qammar Zamman, chief executive of First Enterprise, said: "We are delighted to be celebrating 25 years of First Enterprise. When First Enterprise first started, it was actually a Nottingham city council project and its role was to signpost ethnic minority businesses to other organisations.
"We have evolved a lot since starting out and more than tripled in size. We have become the leading Community Development Finance Institution (CDFI) in the East Midlands providing finances to those businesses that are unable to raise finance from traditional sources."
Since starting out First Enterprise has helped all varieties of businesses including a floating ark restaurant and a travelling double decker bus bar.
But Qammar said the organisation was delighted to see Charles Sumner, of Nottinghamcar.com, win a national accolade for his business acumen after turning his fortunes around from bankruptcy to a multi-million pound business owner.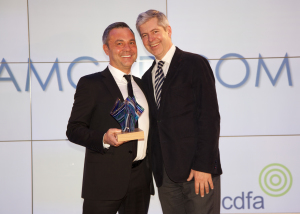 Qammar added: "Distributing loan funding from our ELEM scheme has been hugely beneficial to businesses. We were delighted to see Charles Sumner go on to win the Microentrepreneur for Growth prize at the CDFA Citi Microentrepreneurship Awards.
"After being told by other lenders they would not back him, we are pleased that our support helped him to be where he is today."
NottinghamCar.com was set up four years ago. Owner Charles Sumner said: "I was being turned away from every financial institution for the additional backing I needed – until I found First Enterprise."
"They offered me business support and a business loan of £20,000 to allow me to get started. I bought half a dozen cars and opened up shop in October 2010."
NottinghamCar.com now has a showroom of over 100 cars, has a turnover in excess of £2.5 million and runs an apprenticeship and mentoring programme for young people.
For more information on FEBA visit www.first-enterprise.co.uk