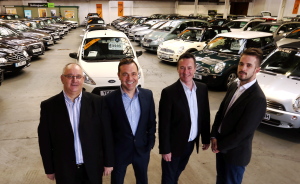 04.03.2015
Outstanding entrepreneurs and community lenders celebrated at national awards for their achievements in creating jobs, services and prosperity in their communities.
Entrepreneurs from Northern Ireland and the East Midlands of England, who have built thriving businesses, have tonight been crowned winners at the Citi Microentrepreneurship Awards.
The national awards programme, delivered by the Community Development Finance Association (CDFA) with the Citi Foundation, celebrated the entrepreneurial flair and determination of Rhonda Montgomery and Charles Sumner, who were both supported by local community lenders – Community Development Finance Institutions (CDFIs), which lend to social enterprises, small businesses and individuals.
Charles Sumner has built a successful business selling quality used cars in Nottingham. He was supported by First Enterprise Business Agency when buying his first collection of just six cars, his company, NottinghamCar.com now has a showroom of over 100 cars and a turnover in excess of £2.5 million. Charles also runs an apprenticeship and mentoring programme for young people.
Rhonda Montgomery launched the innovative 'Butchery Excellence Scheme', assisting butchers with technical support. The scheme was an immediate success and gained fifty members in just three months. The business, Montgomery Food Consulting, needed new premises in County Tyrone to support its growth. Rhonda obtained a loan from local lender, Enterprise Northern Ireland, in partnership with Ulster Community Investment Trust, and her turnover has grown by 400%.
The local lenders who have supported business owners like Rhonda and Charles were also rewarded at tonight's ceremony. Known as CDFIs, these community lenders are providing thousands of financially excluded small businesses and households with vital access to finance and support. According to research by The Centre on Household Assets and Savings Management (CHASM) at the University of Birmingham, almost 1.9 million people in the UK are unbanked, greatly limiting their ability to access the financial tools they need to save, start a business or purchase a home. In 2014, CDFIs lent over 173 million pounds to 50,000 customers creating over 20,000 jobs and contributing over half a billion pounds to the UK economy.
London-based Fair Finance won the CDFI Growth Award for its remarkable achievements in providing consumers and businesses with ethical loans (loans that are specifically designed to increase access to finance for those who can't obtain credit from mainstream sources).Over the last three years, the company has secured £6m of investments to reach more than 10,000 people, many of whom are financially excluded. In the last year alone it has saved clients an estimated £10m in interest payments.
Ben Hughes, Chief Executive of the CDFA, said:
"Tonight we've heard the inspiring stories of entrepreneurs who have shown insight, courage and passion. The UK has thousands more people like Rhonda and Charles, who have the ambition and drive to start a successful business, but not all have the finance they need. The country needs all these businesses to succeed, to fuel innovation and create jobs. At the CDFA we are working to ensure that they can all access fair, affordable finance. That's why tonight we have also put the spotlight on CDFIs and the opportunities they're creating in Britain's towns and cities."
Bob Annibale, Global Director of Inclusive Finance at Citi said:
"This is the 2nd year of the Citi Microentrepreneurship Awards in the UK and the depth of entries is a testament of the continued evolution of the CDFI sector. These awards provide an important national platform to showcase the individuals and organisations that are working to expand access to finance in the UK, and their enterprising clients who are creating jobs, and supporting more inclusive economic opportunities and growth. Citi is proud to partner with the CDFA and to support and celebrate the achievement of these entrepreneurs."
See the short films of all the shortlisted entrepreneurs
About the Citi Microentrepreneurship Awards
Launched in 2005 and now spanning more than 30 countries, the Citi Microentrepreneurship Awards programme highlights the contributions of microentrepreneurs and microfinance institutions (MFIs) to their local economies. Through the programme, the Citi Foundation has invested more than $12 million in microfinance networks and MFIs to convene thousands of key stakeholders that influence sector-wide policy and regulation and encourage innovation around the world.
The programme was launched in the UK in 2013. The Citi Foundation is working in partnership with the Community Development Finance Association (CDFA) to celebrate the achievements of the community finance sector.
Additional information about all the winners is available at www.cdfaawards.org.uk
About Citi Foundation
The Citi Foundation works to promote economic progress in communities around the world and focuses on initiatives that expand financial inclusion. We collaborate with best-in-class partners to create measurable economic improvements that strengthen low-income families and communities. Through a "More than Philanthropy" approach, Citi's business resources and human capital enhance our philanthropic investments and impact. For more information, visit www.citifoundation.com.
About Citi
Citi, the leading global bank, has approximately 200 million customer accounts and does business in more than 160 countries and jurisdictions. Citi provides consumers, corporations, governments and institutions with a broad range of financial products and services, including consumer banking and credit, corporate and investment banking, securities brokerage, transaction services, and wealth management.
Additional information may be found at www.citigroup.com | Twitter: @Citi | YouTube: www.youtube.com/citi | Blog: http://blog.citigroup.com | Facebook: www.facebook.com/citi | LinkedIn: www.linkedin.com/company/citi
About the CDFA
The CDFA is the voice for providers of fair and affordable finance. We represent and support a national network of community development finance institutions or CDFIs.
Additional information is available at www.cdfa.org.uk
About CDFIs
CDFIs lend money to businesses and people who struggle to get finance from high street banks.  They are social enterprises that invest in customers and communities. CDFIs create jobs and help businesses to start and grow. They help people to pay bills, meet unexpected expenses or improve their home. They help people who may otherwise use high cost credit, such as payday lenders. They provide support as well as finance, giving extra help and advice where it's needed. They are about people. They get to know their customers; they help viable enterprises and people who can afford to repay.
Additional information about CDFIs is available at www.findingfinance.org.uk