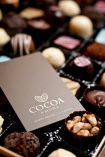 18.12.2014
A renewable energy firm, a luxury chocolate shop and an innovative management system for graveyards are among the businesses announced as finalists for this year's UK Citi Microentrepreneurship Awards. The national awards scheme celebrates innovative and growing businesses that have taken off with the help of alternative finance from community lenders (known as CDFIs).
Microentrepreneurs from Northern Ireland dominate the shortlist, which also includes a premium popcorn manufacturer which grew out of a couple's kitchen experiments and a multi-million pound used car business set up by a former bankrupt.
One of the finalists is PlotBox, based in County Antrim and set up by Sean and Leona McAllister. PlotBox uses inventive drone plane technology to map graveyards and provides a software platform to help cemeteries and crematoria manage their operations. In addition, the records generated are used to populate a genealogy website for the public. The McAllisters took a loan from their local CDFIs, Enterprise Northern Ireland and Ulster Community Investment Trust, to get things up and running.
Another finalist is Derrick Wilkinson's renewable technology installation business, GR33N Limited. Based in Doncaster, Derrick has grown the firm from a small family run business to a pioneering, multi-million Pound turnover Company. GR33N now employs 20 staff, and its work has saved over 9,000 tonnes of carbon emissions over the last year. The business was able to expand thanks to a £50,000 loan from local CDFI Finance for Enterprise.
The Citi Microentrepreneurship Awards are run in over 30 countries by the Citi Foundation, and they have teamed up with the Community Development Finance Association (CDFA) to bring them to the UK.
Ben Hughes, Chief Executive of the CDFA, said:
"The UK clearly has a wealth of dynamic, innovative entrepreneurs. And all of the great businesses on our shortlist have been helped to success by their local community lender. We are also championing these CDFIs that have lent where the banks haven't, and turned the dreams and determination of entrepreneurs into livelihoods, profit, growth and jobs."
"CDFIs are evolving to reach more people and provide more ethical loans. Manchester's Business Finance Solutions, East London's Fair Finance and the Black Country's BCRS Business Loans have all achieved record levels of lending and are finalists for the CDFI Growth Award. Just last year, they together lent over £40m, helping over 10,000 customers."
Bob Annibale, Head of Community Development and Microfinance at Citi, said:
"The quality, diversity and wide geographic spread of entries to the Awards is truly impressive. It's a real testament to the commitment and growth of the UK's community finance sector in recent years, and demonstrates the important role CDFIs play in creating vibrant, sustainable businesses across the UK. The awards are an exciting opportunity to showcase the individuals and organisations that are changing lives, boosting economies and energising neighbourhoods.
The winners of the Citi Microentrepreneurship Awards will be announced at a glittering awards ceremony on 4th March 2015 at the Grand Connaught Rooms in London. The winners will share prize money of £57,000.
The full shortlist for the Citi Microentrepreneurship Awards is:
Microentrepreneur (Growth)
NottinghamCar.com – From bankruptcy to a multi-million pound quality used car business, with help from a loan from First Enterprise Business Agency
GR33N Limited – A fast-growing renewable energy solutions company based in Doncaster that took a loan from Finance for Enterprise
 PlotBox – An innovative software management system for cemeteries  and a genealogy resource for the public, based in County Antrim, supported by a loan from Enterprise Northern Ireland and Ulster Community Investment Trust
Microentrepreneur (Sustainability) Award
So Popcorn Ltd – A manufacturer of premium popcorn that grew from its owners' kitchen experiments, based in Draperstown, which took a loan from Enterprise Northern Ireland and Ulster Community Investment Trust
 Cocoa Amore – A creative Leicester- based artisan chocolatier that took a loan from First Enterprise Business Agency
 Montgomery Food Consulting Ltd – A food consultancy business which introduced an innovative butchery excellence scheme, based in County Tyrone that received a loan from Enterprise Northern Ireland and Ulster Community Investment Trust
CDFI Growth Award
 BCRS Business Loans – supporting small businesses across the West Midlands, lending grew to £5m in 2014, from £500,000 in 2007.
usiness Finance Solutions – lending to businesses in the North West, which broadened its reach and products to help over 6,700 businesses last year.
Fair Finance – a London-based consumer and business lender, which secured commercial investment to expand its lending- growing by 75% in the last year
CDFI New Horizon Award
 Big Issue Invest Scotland– a joint venture between two CDFIs, using complementary expertise to broaden the finance on offer to Scotland's third sector.
Five Lamps – a Stockton-based CDFI which has teamed up with FRC Group to launch an ethical competitor to 'brighthouse' – offering domestic goods on affordable, weekly payment plans for low-income consumers
Fredericks Foundation – a Surrey-based CDFI working with partners to launch a comprehensive support and finance programme helping housing association residents move from unemployment to self-employment.
CDFI Marketing Award
Charity Bank – a bank supporting charities and social enterprises that promotes its social purpose through its marketing and links its savers with the impacts of its borrowers.
Coventry & Warwickshire Reinvestment Trust – a business lender that re-launched its brand, built a strong public presence and referral network that grew its pipeline from 0 to £1.4m in six months.
My Home Finance – a consumer lending CDFI that launched the national 'affordable lending campaign' bringing together 24 partners to highlight the alternatives to payday lenders
Further details of the Citi Microentrepreneurship Awards are availableat www.cdfaawards.org.uk