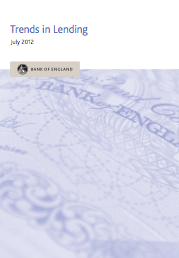 20.07.2012
The Bank of England's latest Trends in Lending report (pdf) has confirmed that lending to UK businesses fell by £3bn in the three months to May, with small and medium-size enterprises (SMEs) especially hard hit.
But with recent figures showing that ethical lending has risen by 300% since 2006, the chief of an umbrella group for locally based community finance providers said the Government must channel some of the 'Funding for Lending' scheme through community finance in order to really help vulnerable businesses in the UK.
Community-based finance providers – ethical alternatives to mainstream banks – lent about £190m to UK businesses, charities and social enterprises and households in the last year, according to the "Inside Community Finance" report published this month. Where mainstream banks and financial institutions are unable to lend, "community finance" providers are doing so – and have a total loan portfolio which has grown by 300% since 2006.
Inside Community Finance showed that last year , these 'unsung hero' providers:
disbursed about £190m in finance to 23,000 customers
of which £23m was lent to 1500 businesses
which generated £171m turnover, creating or safeguarding over 5700 jobs
Ben Hughes, the chief executive of the community development finance association (CDFA), added:
"Latest figures from the Bank of England confirm that businesses, and small businesses in particular, just cannot access the finance they need from mainstream lenders. This confirms our own figures, that 370,000 businesses are financially excluded. Yet last year our members delivered £23m in community finance to SMEs creating and protecting around 5,700 jobs, with half of all loans made to sole traders. Community finance is local, traditional and responsible, offering financial services for businesses and households turned away by the banks. Demand for community finance is growing, but investment is needed to ensure providers can continue to create and sustain local jobs in their communities. The Treasury needs to look beyond the big banks, and towards these local community providers who offer the traditional face to face banking style largely absent from the mainstream providers.
"Previous initiatives like Project Merlin and the Enterprise Finance Guarantee clearly aren't getting finance to the local struggling businesses that need it most. If the Treasury really wants to support the struggling small businesses that are the lifeblood of our economy, they must channel some of the Funding for Lending money through the locally based community lenders who can reach them. Our research suggests that £100 million – just a fraction of the funding for lending money – could create about 20,000 jobs overnight if it was delivered to businesses through our tried and tested members."
What next?
The Inside Community Finance report on the activity of the 60 community finance providers in the UK is available to download from the CDFA website: http://dev.cdfa.org.uk/2012/07/05/inside-community-finance/
CDFA is the membership association for community development finance institutions (CDFIs).  CDFIs lend money to businesses, social enterprises and individuals who struggle to get finance from high street banks and loan companies.  They help deprived communities by offering loans and support at an affordable rate to people who cannot access credit elsewhere. Find your nearest CDFI at http://www.findingfinance.org.uk/